About Robert
I come to dispute resolution as a party representative and also as an arbitrator and adjudicator. One of the strengths of the English and Welsh legal system is that the ranks of the judges are drawn from practitioners, and are thus better able to understand the position of the party and its representative. As an arbitrator and adjudicator I am better able to see matters from the tribunal's perspective and advise accordingly.
Robert started his legal career with Russell-Cooke before moving to firms that specialised in construction law, then returning to Russell-Cooke as a consultant in 2021.
During the course of his career he has advised and acted for employers, contractors, subcontractors and construction professionals in the formulation and running of their contracts and representing them in disputes whether in litigation, arbitration or adjudication.
Robert has extensive experience in arbitration, both in the UK and internationally. He is a chartered arbitrator and has sat as an arbitrator in ICC arbitrations, as well as acting as principal advocate in both national and international arbitrations.
Since the inception of statutory adjudication in the UK in 1998 he has been an accredited adjudicator, he appears regularly in the TCC (Technology and Construction Court), particularly in relation to the enforcement of adjudication decisions and applications under the 1996 Arbitration Act. 
Robert has French nationality and is a fluent French speaker. 
Through his work with design professionals he has developed a significant intellectual property practice centred on the construction industry. He delivers regular RIBA CPD accredited talks on the subject. He also lectures to the School of Contract Management.
He has lived and worked in France, Hong Kong and Dubai and is qualified in both England and Wales & Hong Kong.
Memberships
Fellow of the Chartered Institute of Arbitrators, since 1988
TECSA accredited adjudicator, since 1999 (also on the RIBA and CIC Panels as an adjudicator)
Chartered arbitrator since 2008
Member of the Society of Construction Law
Member and part of the management committee of TECSA and the adjudication subcommittee
Founder member and former chairman of the London branch of the Adjudication Society
Director of the Franco British Lawyers Society and former vice president for England and Wales
Advisor on the RIBA Helpline
Lecturer at the School of Contract Management
Robert's highlights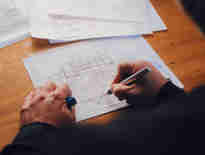 Who owns the copyright after you pay an architect for drawings or plans?—The Times
Consultant Robert Stevenson has written a column in The Times, advising on the rights of clients in retaining architectural drawings...
Russell-Cooke welcomes consultant to complement construction law offering
View all News & Insights