Russell-Cooke history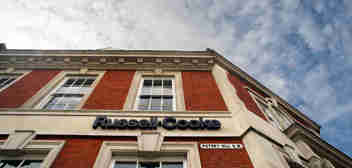 A journey through Russell-Cooke's history
Russell-Cooke was founded by William Russell-Cooke in 1880 making it one of the longest established firms in the England. This long history does not restrict the firm's dynamism but it shows an ability to change and grow without undermining the stability and reliability that matter when choosing a law firm.
2023
The Firm relocates its long established Kingston office to an exciting new riverside location a few hundred metres away. The new office provides much better facilities for clients including visitor parking and increased client seminar space.  
2022
The firm has 63 partners with almost 342 people in total. It also benefits from the work of approximately 65,000 (and as high as 120,000 in the height of summer) honey bees accommodated on its roof.
2020
Russell-Cooke marks its 140th anniversary by going carbon neutral.  
2015
In 2015, the firm merged with long-established Kensington and Notting Hill solicitors, Alan Edwards & Co. This merger enhanced Russell-Cooke's property law practice especially enfranchisement and lease extensions.
2005-2007
2005 saw two mergers with personal injury & clinical negligence specialists Evill & Coleman and the entertainment & media firm Harrison Curtis. 2006 saw a merger with Surrey based solicitors Caporn Campbell, significantly expanding the Kingston Office and introducing new private client services. In 2007 Russell-Cooke Solicitors converts to a limited liability practice, Russell-Cooke LLP.
2001-2003
The firm shortens its name to Russell-Cooke, the first name change for over forty years. A merger with charity law specialists Sinclair Taylor & Martin further broadens the firm's areas of expertise. Major refurbishment works were carried out at 2 Putney Hill to enhance meeting room facilities
1997
The firm acquires the Grade 2 listed premises of 8 Bedford Row from the Princes Trust, moving out of 11 Old Square, where it has been based for over a century.
1992
After eighty years occupying the upper floors of 2 Putney Hill, the firm takes over the ground floor from the national Westminster Bank.
1980's
With Edward Chapman's son Lewin as senior partner the firm continues to grow, with a new focus on business and institutional clients. Coverage of SW London widens with the opening of a new office in Kingston-upon-Thames.
1960's-1970's
The firm grows rapidly developing a thriving real estate department run by Ernest Chapman, who also attracts a number of well known clients from the worlds of pop and entertainment.
1958
The two firms merge to form Russell-Cooke, Potter and Chapman as senior partners.
1940's
Russell-Cooke finds it difficult to re-establish its practice after the war and becomes more closely associated with Sloper, Potter and Chapman. Edward Chapman becomes a partner of both firms.
1930's
The two firms are linked by Russell-Cooke solicitor Edward Chapman; he leaves to join Sloper, Potter and Gosden (soon to be Sloper, Potter & Chapman), but keeps up connections with his old firm.
1906
The solid suburban firm of Sloper, Potter & Gosden moves into the upper floors of the newly built London & County bank building at 2 Putney Hill, SW15.
1890's
Russell-Cooke moves into 11 Old Square, Lincoln's Inn, which the firm will continue to occupy until 1997. Clients include the Liberal Party, then the main party of opposition.
1880's
William Russell-Cooke and his brother Sir Henry Paget Cooke set up in practice, Sir Henry's connections providing a steady stream of aristocratic clients.
Get in touch
Call us on +44 (0)20 3826 7550 or complete our enquiry form.