About Samantha
Whatever your situation and however you got there, I am committed to working alongside you and helping to find the best arrangements for the child or children in your family.
Samantha advises clients on all aspects of children law. She handles cases in an empathetic yet practical manner. She has been working in this area of law since 1994 and has been a member of the Law Society's Children Panel since 1998. She is a Resolution accredited specialist (in public law children, private law children and adoption).
Samantha has Higher Courts (Civil Proceedings) advocacy rights and is an experienced advocate, representing children, parents and family members in court.
Samantha Little is a standout solicitor within the firm, and within family law as a whole. She deals with extremely complex cases and is always able to get to grips with very complex medical evidence quickly. She is also regularly sought after.
Experience
Main areas of work include:
in care proceedings acting for parents, children (directly and through their guardian) and family members, often acting for vulnerable clients who are supported by intermediaries. She is experienced in cases concerning deprivation of liberty and the challenges that sometimes arise with teenage children who have been adopted
complex wardship cases
family creation, surrogacy and parental orders and she has been involved in a number of cases where errors in the actions of fertility clinics have led to difficulties with legal parentage, resulting in court applications for declarations of parentage
international surrogacy cases including two involving Iran
advising foster carers who wish to take on the long term care of the children in their care
domestic adoption including step-parent adoption and adopting children from care and negotiating support packages
international adoption, with particular expertise in adoptions to the US from the UK
advising parents and family members in cases concerning residence and contact disputes and any aspect of a child's upbringing where there is a disagreement, for example where one parent wishes to take a child abroad to live, or where a parent wishes to change the child's name or school or take the child for a medical operation or course of treatment
Samantha is particularly an expert in domestic and international adoption - she's one of the best practitioners in that area.
Notable cases
In the matter of A (A Child) (FC) - The Supreme Court: concerning a vulnerable witness 

AB (Foreign Surrogacy -Children Out of The Jurisdiction) [2019] EWFC 22 (22 February 2019) (bailii.org): international surrogacy/parental orders involving children from Iran

Re S (A Child) & Anor (s 20 Accommodation) - Find case law (nationalarchives.gov.uk): Court of Appeal decision regarding the use of section 20 Children Act 1989 for long term placements 
Memberships
Member of Resolution (formerly the Solicitors' Family Law Association) and active member of Resolution's Legal Aid Committee
Accredited to the Law Society's Children Panel since 1998
Member of the ALC (Association of Lawyers for Children)
Samantha's highlights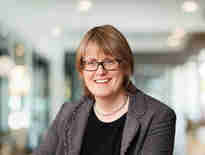 Events
Samantha Little to speak at the Association of Lawyers for Children annual conference 2022
Russell-Cooke children law team wins key s20 Children Act point at Court of Appeal
Russell-Cooke boosts recognition in Best Lawyers in the UK 2023
View all News & Insights