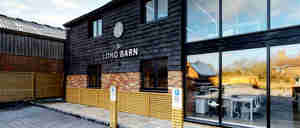 Meeting Room
Cobham, Surrey
The Long Barn, Down Farm, Cobham Park, Road Surrey, KT11 3NE
Cobham meeting room location
Please note we can meet you at our Cobham meeting rooms by appointment only.
The Long Barn is located on the Cobham Park Estate and is only accessible by car.
By train
The Long Barn is a 10 minute drive from Cobham & Stoke d'Abernon station. Cobham Cars taxi service is directly opposite the station.
By car
Via the A3, The Long Barn is a 15 minute drive. Follow signs to the Cobham Park Estate located at the end of Cobham Park Road. Entrance to the private estate is via white gates. Follow the road till it forks and turn right (Caramel Talent will be on your left). At the end of the road through the gates, turn left past Moore Tech Engineering. Through the large brown wooden gates are visitor parking bays.
Disabled access
There is disabled access at this building. When booking your appointment please let us know of your requirements.