About Giverny
Third sector governance and commercial work is a privilege: at its best, it's about helping people do good for causes that move them. My long-standing interest in the running of arts and culture-based organisations as a musician means, in some ways, I was a charities lawyer well before I started studying law.
Giverny provides strategic and legal advice to individuals and organisations on all aspects of charity law, including:
establishing new entities
governance and policies
fundraising and charitable giving
mergers and agreements with external bodies
organisations in distress and winding down
As a trustee of the Cathedral Music Trust and co-founder of a prison education charity, Giverny is a well-rounded charities practitioner with experience in the third sector spanning nearly 10 years.  A dedicated classical musician, Giverny is particularly interested in organisations in the arts, cultural, education and faith sectors.
From household names to grassroots not-for-profits and philanthropists aiming to direct their money to important causes, Giverny has a personable approach and aims to offer practical and proportionate advice to clients at all points in their organisation's lifespan.
Giverny joined Russell-Cooke as a newly qualified solicitor in 2022 after training at an international City firm with a top-ranking charities and philanthropy team.
Memberships
Member of the Law Society
Member of the Charity Law Association
Member of the Ecclesiastical Law Society
Member of the Association of Women Solicitors
Member of Women in the Law UK
Member of the National Criminal Justice Arts Alliance
Giverny's highlights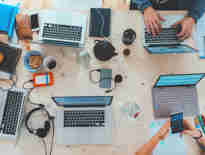 Social media series for charities (part 1)—demystifying new Charity Commission guidance
Throughout this series, the charities team explores the important issues surrounding charities' use of social media. In this edition...
Charities Act 2022: what you need to know about the new provisions
The Charities Act 2022 is coming into force in stages. The latest set of provisions came into force on 14 June 2023. The changes are most relevant for charities...
View all News & Insights