About James
Just like modern relationships, my clients are mixed and diverse. Whether as a lawyer or mediator, my role is to help my clients make informed and sensible decisions regarding their legal, financial and parenting relationships.
James is known for having a commercial, constructive and resolution focused approach combined with the ability to pursue litigation through the courts with tenacity where necessary. 
He specialises in the financial and other consequences of relationship formation or breakdown. His principal role is to help people separate sensibly. 
James is an expert in complex financial matters, including those involving businesses and trust/tax structures, often with an international dimension. He has considerable knowledge of pre-nuptial agreements (having sat on the Advisory Group to the Law Commission).
In contrast with many family lawyers, James' practice is not limited to representing married couples or those in a personal relationship. He also acts for family members, business partners or trusts/corporations who own property together or face family-related legal issues.
James is identified as a leader in the field in relation to same-sex relationships, civil partnerships and same-sex marriages, particularly those involving cross-border issues.
James has a particularly strong reputation in resolving matters through constructive discussions and cooperation. He is both an active and Accredited Family Mediator and a Collaborative Family Lawyer (both specialist forms of dispute resolution designed to reach solutions out of court). James also works with and advise individuals, couples or wider family members, and is qualified to work as the sole legal advisor to both parties who are separating, and where relevant their wider family. 
James Carroll is focused on resolving matters in the most advantageous and cost-effective way. He isn't afraid to be firm when he needs to be but in a very charming and compelling way.
Notable cases
Chancery Law case of Ashby v Killduff regarding the disputed ownership of a number of properties following the breakdown of a same-sex cohabiting relationship

Divorce case relating to the husband's attempts to bankrupt himself to avoid his wife's financial claims

Leading case on nullity and Islamic marriages of El Gamal v HRH Sheikh Ahmed Bin Saeed al-Maktoum which also appeared in the Court of Appeal in relation to the financial provision for children of unmarried parents
James Carroll is a life changer! His knowledge and insights are personal and yet so professional.
Memberships
Fellow of the International Academy of Family Lawyers
Resolution
Practical Law, Editorial Board: Family
Family Mediation Council, Accredited Family Mediator 
There's no doubt he will be a superstar. He has really, really remarkable skills with people, he's very bright and he's exceptionally able.
Publications
Co-author of the Family Law Protocol published by the Law Society
James's highlights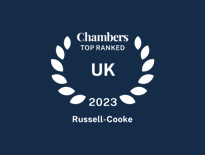 Russell-Cooke boosts recognition for private wealth specialists in Chambers High Net Worth 2023
Russell-Cooke family team shortlisted in Chambers High Net Worth Awards 2023
With this gift, I thee wed - ThoughtLeaders4 HNW Divorce
View all News & Insights