Graduate recruitment FAQs
Thinking of applying for graduate recruitment programme? Here you can find the answers to our most frequently asked questions.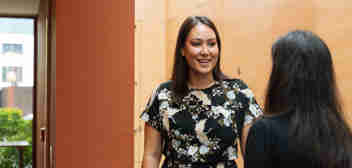 Nurturing talent: your graduate recruitment journey at Russell-Cook
Answering your questions about entry requirements and more
What are the entry requirements?
We require a minimum 2:1 degree and AAB at A-level. 
If I don't meet the academic qualifications you specify, is there any point in applying?
There may be extenuating or mitigating circumstances as to why you did not receive the grade you had hoped for.  Please detail any relevant information in your application form for us to take into consideration. We use the RARE Contextual Recruitment System to enable us to people from all kinds of backgrounds and helps up put your academic achievements in the context in which they were gained.
Do you give preference to applicants with law degrees or those who have studied at particular universities?
No. we simply look for talented people with potential, wherever (and whatever) they have studied. We believe in diversity and feel it contributes to the firm's distinctive character. Russell-Cooke lawyers come from a wide range of academic backgrounds.
Can I apply for the vacation scheme and the training contact at the same time?
Yes – those that successfully apply for the vacation scheme are automatically considered for a training contract. We understand that some people have work commitments and cannot attend the Vacation scheme, they can apply for the Training contract route.
Do you offer feedback to unsuccessful applicants?
We are unable to provide feedback or identify your application due to our blind screening process and high number of applications. You only receive feedback if you reach the vacation scheme or assessment day for the training contract.
What is your interview process?
Our interview process gives you the chance to get under our skin (and vice versa).
We invite selected applicants for two interviews:
a first 'getting to know you' interview with one of our senior associates.
for those who are shortlisted, the second interview is essentially an assessment centre. It consists of a letter writing exercise based around a case study on a fictitious firm, followed by a round table discussion on a variety of topics relevant to the legal market. The final stage is an interview with our graduate recruitment partner, two partners and our Head of People, which is very relaxed chat.
 
You will also meet our current trainees, go out for lunch and have the opportunity to grill them followed by a tour of our offices.
Does your interview process include "personality" tests?
No. One of the reasons we do not use personality tests is that we are not seeking to recruit a single personality type. The varied work we do creates opportunities for a wide range of personalities and aptitudes.
Who decides what seats I will occupy during my training contract?
The final decision is ours. But we put a lot of effort into discussing trainees' own preferences and aptitudes with them, in light of what is available at any particular point.
If I am committed to qualifying in a particular area of work, will you consider me for a training contract?
Yes. In return, we ask you to keep a reasonably open mind about the seats you occupy. Whichever departments you work in, you can be sure of acquiring the generic legal skills that will serve you well throughout your career.
It's actually not a bad idea to move outside your 'comfort zone' for a while. Many of our trainees find that their initial preferences change during their training contract, and some develop unexpected enthusiasms for types of work that would not have previously featured in their plans.
What are the most difficult things about training at Russell-Cooke?
You will need (often quite rapidly) to acquire a range of skills and adapt them to different working environments, even within a single department.  You will have to learn to tailor your advice to different clients and develop the confidence to make and back your own judgements.
Do you offer a grant for the SQE and/or PGDL?
We provide capped sponsorship of up to £10,000 per candidate for the SQE together with an interest free loan of a further £5,000 towards the cost of fees. This should cover the cost of the SQE courses and assessments, depending on the provider.  We do not offer retrospective funding, we only fund those yet to study their SQE. Unfortunately, we cannot reimburse you for your LPC or SQE if you have completed these prior to securing a Training Contract with us.
We do not sponsor the PGDL.
Does my previous work experience count as Qualifying Work Experience (QWE) and therefore have to time to count which reduces the length of my training contract?
We believe that it is important that all trainees complete the two year training contract to ensure they are in the best possible position in terms of their skills and knowledge in anticipation of qualification. If some circumstances, where there is a business need, a trainee may have their training contract reduced but this is unusual.
Get in touch
If you do not find an answer to your query, please email us or call on +44 (0)20 3826 7550