About Bhavneeta
Bhavneeta has a vast amount of experience in advising some of the world's largest global businesses and high net worth individuals on various corporate, personal immigration and human rights matters.
She regularly provides practical and strategic advice, which is well aligned with tax and employment considerations, to businesses to support them through key growth milestones and navigating geopolitical challenges such as Brexit and COVID-19.  
Bhavneeta has extensive experience in acting for clients on nationality, EU matters, family based applications, sponsorship, compliance, right to work, corporate transactional, investor and global talent matters. Her clients are drawn from all sectors including energy, healthcare, finance, retail, professional services, technology and media.
She is known for her end to end support for businesses, and with both breadth and depth of experience in personal and corporate immigration, she has the ability to advise on every aspect of a client's immigration journey.
Her passion and interest in staying on top of political changes in this landscape has led to Bhavneeta becoming a regular trainer on immigration updates for the majority of the magic circle law firms and corporations.
Bhavneeta often participates at annual immigration and employment conferences including the International Bar Association (IBA) and American Bar Association (ABA), which allows her to exercise her thought leadership in this field and at times represent UK immigration law. As a result, she is frequently approached to provide press comments on current megatrends and an assessment of newly implemented immigration routes.
Bhavneeta is a pleasure to deal with and understands very well client relationships. A top adviser.
Experience
Attending and participating in the Biennial International Bar Association Global Immigration Conference in London December 2022

Attending and participating in the American Bar Association 16th Annual Labor and Employment Law Conference in Washington DC in November 2022

Presenting part of the UK panel of the American Bar Association's International Committee Roundtable series

Leading Russell-Cooke's pro-bono advice to Ukrainian employees and their family members following the Ukraine crisis

External immigration advisor for a number of multi-national and global companies, advising on recruitment of skilled workers and immigration related policies

Advising one of the largest financial institutions in moving their operations to the UK as well as their key personnel 

Advising and representing a number of high-net-worth individuals on the former entrepreneur, investor and the current innovator visa route

Advising on a complex spouse visa which relied on more than five sources of income to meet the financial requirement

Conducting on-site compliance audit for one of the largest energy providers and providing a comprehensive report which led to the mitigation of a number of serious breaches

Advising and preparing family based applications under Appendix FM and applications outside of the immigration rules

Advising companies on how their suppliers and manufacturers can safely visit the UK to carry out permitted activities under the visitor rules

Advising on global talent visa applications with particular success in the tech sector

Advising multinational companies on the implications of their actions on their sponsor licences and obtaining sponsorship visas for their employees and dependant visas for their family members
Education
Read law at the University of Southampton

Completed the Legal Practice Course (LPC) at the University of Law

Qualified as a Level II senior caseworker under the Immigration and Asylum Accreditation Scheme (IAAS)
Memberships
Member of the Economic Migration and Family and Personal Migration working groups for the Immigration Law Practitioners Association (ILPA)

Member of the Employment Lawyers Association (ELA)
Bhavneeta's highlights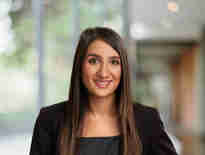 Events
Bhavneeta Limbachia to attend ABA Annual Labour and Employment Law Conference
Spring changes to the Immigration Rules
New Global Business Mobility visa could be blocking talent - HR Magazine
View all News & Insights