About Carla
I support charities and not-for-profits with people issues, including employee, volunteer, trustee, and member and beneficiary concerns. I specialise in employment and data protection law.
Carla combines expertise in employment and data protection law with experience and understanding of the not-for-profit sector. She supports diverse charities including those working in the arts, education, environment, homelessness, health, social care and international development sectors, as well as professional membership bodies. Carla is able to call on her HR, regulatory and safeguarding knowledge to get to the bottom of knotty problems and offer creative solutions.
Clients appreciate Carla's calm and clear advice on complex and sensitive matters.
Carla qualified as a solicitor in 2012 and joined Russell-Cooke in 2017. She became a partner in 2022.
Carla Whalen's client service, level of sophistication and commercial awareness are very strong. She is incredibly helpful.
Experience
Successfully defending a national charity against complaints of unlawful discrimination by a service user

Advising the board of trustees of a well-known charity after grievances were raised against senior managers

Supporting a household name charity to respond to allegations of sexual harassment against a trustee

Working with a professional membership association to develop an equality, diversity and inclusion strategy

Successfully arguing that TUPE applied on the merger of two animal welfare charities

Supporting a community charity with a restructure and redundancy process following the end of a key contract

Advising a religious charity on the publication of information relating to a historic safeguarding investigation

Assisting a health charity to respond to a request from the Charity Commission for information following a safeguarding alert

Helping a youth charity to put in place data sharing agreements with government departments and universities

Advising a membership body on responding to a complex subject access request

Supporting a charity to deal with a personal data breach affecting children and young people
Carla has always been incredibly helpful and swift to reply, and provides really useful explanations in layman's terms.
Memberships
Member of the Employment Lawyers Association

Member of the Charity Law Association

Chair of The Fitzrovia Chapel Foundation
Carla guided us through a complex and delicate legal situation by drawing on her wealth of experience. Her upbeat disposition was a huge asset that helped us keep perspective through some pretty grim situations.
Carla's highlights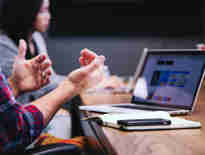 Charities increasingly embroiled in complex cultural disputes, report lawyers - Civil Society
Russell-Cooke sponsors Getting On Board's new Trustee Learning Programme
Events
Civil society or civil war charities in conflict
View all News & Insights