About David
My role is to give clients clear, commercial advice – whether that is a regulated public company, or a startup speaking to a lawyer for the first time.
David advises on a variety of corporate and commercial legal matters, with a particular focus on the sale and purchase of companies and businesses, company law and governance issues, and lending & security.
He advises clients across a range of sectors (including real estate, financial services and family businesses).
David prides himself on providing clear, commercial advice which reflects and addresses the concerns of clients. Having started his career working for a top 20 City firm for four and a half years, and having been at Russell-Cooke since 2006 (becoming a partner in 2012), David effectively advises clients of different sizes and types, including regulated pubic companies, barristers' chambers, and startups & growth businesses - and adjusts his approach accordingly when doing so. 
In addition to working with clients on matters that fall within the usual remit of a corporate and commercial lawyer, David regularly works with colleagues in other teams across the broad range of areas where Russell-Cooke advises in order to provide a comprehensive service to clients. 
This includes working with our dispute resolution team in structuring and implementing solutions to address disputes between business owners, and liaising with colleagues in our private client and family teams to advise on family businesses and family investment companies.
David often comments in the legal and general press on business issues and has acted as an expert witness at a crown court trial.
I cannot recommend David too highly.
In a long business career, I have worked with and against a swathe of lawyers from many of the major law firms in the UK and the US, and along the way I have learned to pick lawyers over law firms. I started to work with David Webster, a partner with Russell Cooke, in 2016 and was struck by three things. He is highly intelligent, an outstanding lawyer, and his instinct is to find solutions over confrontation. Over the past seven years I worked from time to time with David on a number of projects and since 2021, he has become the lead advisor to Viritech Ltd, a hydrogen cleantech engineering company.
Since our first transaction, David has been part of the Getenergy / Field Ready team. It's rare, in my experience, to find a professional legal firm whose partner is as engaged, understanding and supportive as David has been over the years. I consider myself very lucky to have David on our side.
David's highlights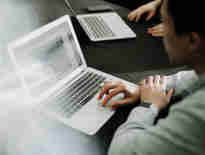 Events
The role of the independent administrator — how to navigate the traps and pitfalls
How to navigate the traps and pitfalls
Russell-Cooke announces a bumper crop of senior associates
Blockchain and securities - the UK Jurisdiction Taskforce of the Lawtech UK Panel's take
View all News & Insights