Corporate and commercial team
About the corporate and commercial team
Our corporate and commercial team act for a wide range of businesses from publicly quoted companies and property development companies to professional and creative partnerships and startups.
The dedicated team will guide you through the intricacies of modern business transactions, from facilitating the buying and selling of businesses to crafting solid commercial contracts. Our experts bring precision and strategic insight to every endeavour, combining legal expertise with commercial instinct.
We specialise in navigating the intricacies of company law, corporate governance, data protection, GDPR compliance, investing and fundraising, mergers and acquisitions and intellectual property, ensuring your business operates at the forefront of legal standards. 
Whether you're embarking on equity fundraising, or require advice on shareholder agreements and joint ventures, our team can assist, backed by a commitment to excellence and years of experience.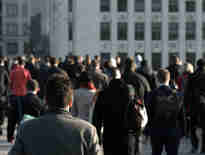 Corporate & commercial law
Our corporate and commercial lawyers help businesses, ranging from startups to established corporations, by delivering in-depth expertise and legal advice...
Get to know our corporate and commercial team
---
Get in touch
If you would like to speak with a member of the team you can contact our corporate and commercial solicitors by email, by telephone on +44 (0)20 3826 7511 or complete our enquiry form.