About Lucy
I focus on helping my clients navigate their property disputes, to deal with the dispute in the most appropriate manner and to make the process as efficient as possible.
Lucy advises businesses, charities and individuals on a wide range of contentious property issues relating to residential, commercial property and mixed-use properties. 
Her experience includes assisting with landlord and tenant matters in a variety of disputes including rent and service charge recovery, possession matters, break clauses, breaches of covenants, boundary disputes, forfeiture and statutory lease extensions.
Lucy also works with the firm's build-to-rent clients including managing agents within the private rented sector. She prioritises resolving disputes in a cost efficient and effective way. 
Lucy trained at Russell-Cooke and qualified as an associate in January 2023.
Memberships
Member of the Practical Law Association (PLA)
Lucy's highlights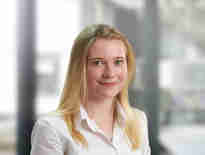 Life of a trainee lawyer at Russell-Cooke
Sports and a buzzing social life
Russell-Cooke retains six newly-qualified solicitors
Planet v profit - rethinking ethical investment policies
View all News & Insights