Community involvement
Russell-Cooke has a long history of supporting charities, organisations and individuals. Some of our current projects are detailed below, click a heading below to find out more.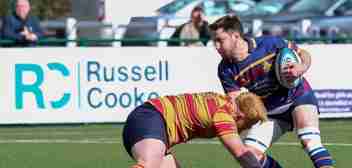 Charities
We support a number of local and national charities through sponsorships and staff fundraising events.
We donate £5 to charity for each client feedback form returned by our clients. Each year the two charities we donate to are selected by our staff. The two charities nominated most recently by staff are:
First Touch – dedicated to the neonatal unit at St George's and the money raised by our supporters goes directly to fund equipment and projects to improve outcomes for the babies and their families.
Mind – offers information and advice to people with mental health problems and lobbies government and local authorities on their behalf.
This year we are happy to support Friends of Richmond Park. Friends of Richmond Park is a charity dedicated to the conservation and protection of Richmond Park for the benefit of the public and future generations.
Sport
Russell-Cooke is delighted to be involved in the Cobham community and is proud principal sponsor of Cobham Rugby Football Club. You will often find members of our firm cheering on the team, attending events and hosting seminars for Cobham RFC members. We are also proud sponsor of Cobham Netball Club.
Russell-Cooke provide sponsorship and legal support to Surbiton Hockey Club, the largest hockey club in the UK with over 1,500 members. The junior teams are national champions in nearly all age groups. Both their ladies and men teams current winners of the domestic league titles with the ladies winning for a record 4th consecutive year. Three of the Surbiton ladies are current Olympic champions having won a historic gold medal at Rio 2016. They also support the local community and are a club for all.  
 "Without Russell Cooke's sponsorship it would not have been possible to purchase a new digital scoreboard for use during our National League Games. They have given valuable support to our board as they have given us access to individual lawyers who have a width and breadth of experience and are highly rated amongst their peers"   Suresh Desai, SHC Club President
Russell-Cooke sponsors Barnes RFC Minis Club. Barnes Rugby Club is a club with a rich history and was established in Barnes in the 1920's. Russell-Cooke's support of the Minis Club helps the club introduce young players onto the rugby ladder so that the future of the game is assured.
Russell-Cooke is also sponsor of the Roehampton Gold Cup, a pro-am tournament for female golfers which has been held at the Roehampton Club for over 75 years. Our recent support has meant that the club can now attract some of the top professional lady golfers, which further enhances the tournament's reputation.
The arts
We support a number of arts organisations in and around the London area.
Russell-Cooke has been involved with the Rose Theatre Kingston since its inception and have supported it throughout its development. We also sponsor Friends First Night, an opportunity for the friends of the Rose to get together on the first night of each production.
Russell-Cooke is proud to support Temple Music Foundation, a charity founded in 2002 with the aim of supporting and promoting music in the Temple. The foundation offers an established and acclaimed programme of choral and chamber concerts, song recital, organ recitals, and occasional staged performances of dramatic works and operas in Middle Temple Hall and Temple Church.
We continue to support the Polka Theatre access programme The education law team is particularly engaged in this sponsorship as our support goes to help children with access needs who would otherwise struggle with mainstream performances.
Get in touch
Call us on +44 (0)20 3826 7550 or complete our enquiry form.