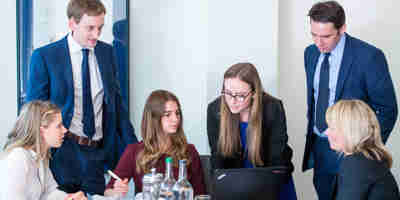 A tale of two courts: an unusual day in the life of a family trainee
Training in the family department, you are essentially helping to guide clients through what is often a very difficult chapter in their life which makes for especially rewarding work.
Two weeks into being a family and children team trainee I had the unusual experience of attending two courts in different parts of London on the same day, something which was not planned.
I made my way to court for an afternoon hearing with bundles in hand (in case the judge required the bundle physically in front of them even though we are now mostly electronic), leaving myself plenty of time to travel through London.
Finding the court in the first instance was difficult and I clearly looked lost as a security guard for one of the buildings nearby approached me and asked me if I knew where I was going.
When I finally found the court, I wasn't surprised that it had taken me so long to find; the entrance to the court was a tiny glass door on the side of a building in what felt like a sea of lavish entrances in the surrounding, towering buildings.
Alarm bells first started to ring for me that day when I arrived at the court and security were unable to find my case listed on their file. I was ushered into the building to speak with a court officer. Alarm bells began to ring louder when the court officer also could not find my case on their daily listings however, they wished to speak with a colleague to confirm.
When the court officer returned to the desk after what felt like the longest 10 minutes, I could tell by their face that they were not bringing me good news: I was in the wrong court, despite the fact I had gone to the location directed by the Court order. The court I was meant to be in was in a completely different part of London.
The court officer was apologetic and explained that there had been a change as where the hearing would be held but this change had unfortunately not been communicated to the parties. The court officer assured me that I would be able to make it to the second court within 20 minutes.
I was doubtful when Google Maps was estimating just under an hour across London. With the hard copy bundles under my arm, the barrister and I swiftly exited the court building and powerwalked to the tube station. On my 'light' jog to the station, I kept telling myself that of course this would happen to me on my first time attending court on my own and that we could not possibly make it on time.
We did however make it to the court at 2.00pm on the dot, the time the hearing was due to start. The judge was very understanding and allowed us some time to compose ourselves (having just run across London) and to speak with our client ahead of the hearing. The hearing went smoothly and resulted in some positive steps for our client. With hindsight, I really did not have anything to worry about.
The case itself has been a very interesting case to be involved in, with allegations of international child abduction and attempts to facilitate contact across countries. My supervisor has allowed me to take on a greater level of responsibility on this matter and I have been able to oversee the day to day running of the case. To help to arrange contact between a parent and a child who have not seen each other for a significant period of time has been an incredibly fulfilling experience.
My anecdote aside, what I learnt from this experience was how important it is as a family trainee to be able to expect the unexpected and to be able to stay calm under pressure.
Issues may arise at the last minute which are out of your control and could not have been predicted but being able to adapt in these types of situations and not panic is a vital skill which I am learning.
Having only been a family trainee for two months, I have had the invaluable experience of attending court on multiple occasions already and will continue to do so over the remainder of my seat.
So far in my seat I have been exposed to wide-ranging, high-quality work which has made for an excellent learning experience. 
Get in touch
Visit our graduate recruitment portal for further information on our training contracts and vacation scheme.