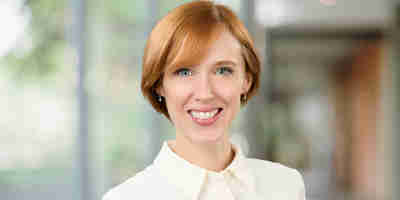 Embarking on a career change—my journey to a training contract with Russell-Cooke
First seat trainee Anna Newbury shares her journey from working in a museum to a career in law.
Why change career?
My journey to a training contract with Russell-Cooke started in 2017. I was working in a museum having finished an MA in Museum Studies two years earlier. I enjoyed my work but, to the surprise of most people, I have always enjoyed learning and had continually considered studying law. This led me to enrol in the graduate diploma in law (GDL) part-time in the evenings, driven more by academic curiosity than a desire for a career change.  
I enjoyed the GDL as much as I anticipated, but wasn't yet sure whether a career as a solicitor was for me. Whilst I had a passion for my museum work, I also grappled with the imposter syndrome that many individuals feel when they consider a career in the legal sector. Nonetheless, the idea of pursuing law lingered in the back of my mind. 
Then there I was in 2020, a challenging and worrying time for so many but a time for reflection. It was during this time that I began considering a career change. I researched the Legal Practice Course (LPC), vacation schemes and training contracts and attended online events and webinars about life as a trainee solicitor. (I found some of the online events highly informative and I would recommend doing some research to see what is on offer.) While researching law firms generally I began researching Russell-Cooke. 
My Russell-Cooke interview journey 
I took part in an online vacation scheme with Russell-Cooke and then embarked on the interview process with the firm.  During my interview I was asked 'why are you choosing a new career?' My response was honest – I acknowledged that I wasn't entirely certain of my decision, but expressed my enjoyment of the GDL, my interest in different aspects of law and my eagerness for a new challenge. (Although, in all honesty, my response was probably less articulate than that). 
The following week, I missed a call from Russell-Cooke whilst I was at work (I may have purposefully missed it because I was too nervous to answer).  When they offered me the training contract it felt like a great opportunity and the right next step. I subsequently began studying the LPC in 2021 part-time in the evenings. It wasn't easy to study while working full-time and I had to make sacrifices to ensure I finished the required reading each week.
Reflections as a career-changer  
Since the training contract interview two years ago, I think I can now confidently answer the question 'Why did you decide to change career?' The imposter syndrome still lingers and questions creep in as to whether  this was the right career move, but I've come to realise that this is a normal part of the process. As I sit alongside my fellow trainees, I have discovered we all share these nerves. Many of the experienced lawyers in the firm have recalled their nerves as a trainee. If you're contemplating a training contract, rest assured, there's lots of information to guide you. The best of luck on your journey! 
Applications for the 2026 Russell-Cooke graduate training contract open on 16 November 2023 and close on 16 February 2024. 
Get in touch
Visit our graduate recruitment portal for further information on our training contracts and vacation scheme.