Russell-Cooke is ranked one of the top UK firms in Legal 500 Client Service Survey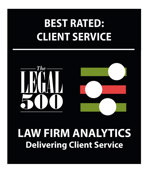 Russell-Cooke has been recognised for its outstanding client service by The Legal 500 in its inaugural Client Service Survey. The firm has been ranked in the Top Ten UK Mid Size Firms for Client Service. 
The new Legal 500 Client Service Survey is the largest and most comprehensive survey of client satisfaction ever conducted of the UK legal market.
The research was based on responses from more than 60,000 clients, who rated more than 1,000 firms on the service they offer. Law firms were assessed on criteria grouped by three themes – lawyer/team quality; sector/industry knowledge; and billing and efficiency. This data was combined to provide a single Client Service Score for every firm.
The Legal 500 is an independent guide to the legal sector. In Legal 500 UK 2020 Russell-Cooke was ranked as a top law firm in 23 separate areas of practice.
Mid Size firms are defined in this survey as those firms ranked from 51-100 in The Legal Business 100 (annual ranking of law firms by size). Legal Business and the Legal 500 are both published by Legalease.
Legal 500 editor Georgina Stanley said: "The survey findings – which encompass three million data points – provide an unparalleled picture of how clients rate the service on offer across all different categories of firms operating in the UK market."
Managing partner Jonathan Thornton said: "Client satisfaction lies at the very core of the Russell-Cooke ethos, so this accolade is a welcome acknowledgment of our commitment to high-quality service. Our approach is always to deliver the best advice for our clients and to put their interests, not our own, front and centre of what we do. The breadth of our practice areas means our clients vary hugely from individuals and families to businesses, charities and regulators; from the legally aided to the very wealthy; from the very elderly to the youngest children. Every client is equally important to us."
"The consistency of our service is a testament to every member of the team – from the lawyers who deliver the advice, to our reception team and executive assistants who invariably greet clients, through the IT team who facilitate the vital communication systems to the finance team members who calculate the final bill. Every one of them plays a key role in the delivery of our strong client service."