Russell-Cooke recognised as one of the 2021 eprivateclient Top Law Firms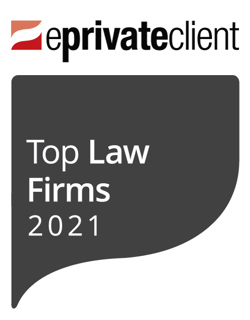 Russell-Cooke has been listed among the best private client legal teams in the UK by eprivateclient for the 11th consecutive year.
eprivateclient is a leading news service and online publication for wealth management professionals and private client practitioners, including lawyers, accountants, trustees and fee-based IFAs. Each year, eprivateclient compiles a list of the best law firms in the UK in a number of practice areas. These rankings are based on data such as number of partners, number of fee earners, total number of staff and total fee income as submitted by applicant firms.
The firm's private client offering was bolstered in the 2020/2021 financial year with the arrival of partner Clare Jeffries in November 2020 and the promotion to senior associate of Anouksha Patel in May 2021.
In March 2021, the firm's Family Office team published 'Generation Game', a report highlighting the current changing dynamics and shifting landscape for families based on conversations between members of the Russell-Cooke Family Office with experts in wealth and estate management, philanthropy and psychology about the current climate for wealthy families and the outlook for the future.
Russell-Cooke's private client team was a STEP Awards finalist in the Private Client Legal Team of the Year category.
Work for private clients represents over half of the firm's total income.
Private client partner and Head of Family Office Rebecca Fisher comments: "Our private clients and their families are an integral part of our firm's past, present and future. Our relationships with them often span the generations. Having the right team in place is extremely important. We know we have great people who give a great service but it's always good for us to get public recognition of that. We look forward to continuing to strengthen our team and, through them, further deepen our relationships with our clients."
The full rankings are available on the eprivateclient website. For further information, please visit our individuals and families page.