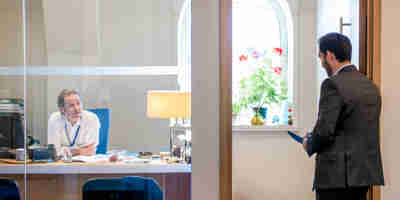 Two seats in: to litigate or not to litigate?
To litigate or not to litigate?
The Solicitors Regulation Authority (SRA) requires trainee solicitors to undertake both contentious and non-contentious seats throughout their training contract. This equips trainees with a robust set of skills to see them through their career, as well as help those at the start of their legal journey to narrow down the area of law they eventually choose to qualify into.

Some trainees find themselves falling neatly into the category of either contentious or non-contentious lawyer, whilst for others the decision of where to qualify is not so clear cut.
Fortunately, Russell-Cooke boasts a diverse range of practice areas spanning both contentious and transactional work including real estate, crime, private client, and children's law. This presents the firm's trainees with an opportunity to experience a multitude of different types of work, helping to whittle down their preference for either contentious or non-contentious work as well as identify the area of law they are most drawn to if not already known.
If you, like me, find yourself unable to pick a side just yet, here is a handy guide to the pros and cons of each kind of work. 
My journey so far: seat one
The family team in the Bedford Row office welcomed me into the world of contentious legal work and I was quickly introduced to the process of handling disputes between two parties going through divorce or separation.
My workload often consisted of instructions to counsel, drafting documents for hearings and preparing court bundles, illustrating how trainees are exposed to a variety of tasks which are integral to the litigation process. I was also invited to attend mediations and alternative forms of dispute resolution.
Legal proceedings in the context of relationship breakdown can be incredibly testing for all those involved, and so supervision can often centre on coaching trainees on how to adopt an appropriate and sensitive tone when corresponding with clients and other parties.
This is especially important given that contentious matters can sometimes last for years, and trainees may find themselves having to quickly build rapport with clients well into the divorce process.
That said, a small fraction of my workload in the family team fell into the non-contentious bracket and I enjoyed drafting transactional documents such as pre-nuptial agreements and declarations of trust.
These tasks invited me to take regular client instructions, draft the document accordingly and provide accompanying advice to the client, presenting me with a taster of the transactional legal work to come.
My journey continued: seat two
I am currently in the commercial real estate team in the Putney office which largely consists of transactional legal work. My to-do list has been decorated with a range of drafting tasks including leases, assignments and deeds, which often require consistent correspondence with clients in order to obtain regular instructions.
Unlike contentious matters, it is not uncommon for smaller transactions to begin and conclude within a six-month rotation. This shorter cycle has allowed room for me to run a few of my own matters from start to finish, providing ample opportunity to build client rapport from the beginning of a transaction and throughout the remaining stages.
Two months into my seat and I am the first point of contact for numerous clients, highlighting the large degree of responsibility you can expect from a seat in real estate.
Surprisingly, a small fraction of my workload in the real estate team has been characterised by contentious work. Russell-Cooke's planning team forms part of the wider commercial property department and I have enjoyed assisting with the preparation of court bundles for a Compulsory Purchase Order hearing.
Which side?
Undertaking consecutive contentious and transactional seats has the advantage of allowing trainees to directly compare the two types of work, thereby helping them to determine what 'kind' of lawyer they are.
That said, there is certainly no obligation to 'pick a side': both contentious and non-contentious work come with a wealth of experience and many trainees find themselves drawn to elements of both.
For those sitting on the fence, Russell-Cooke's broad array of seats includes 'hybrid' options such as employment law and, as discussed, trainees might find themselves using transactional skills in traditionally 'contentious' seats such as family.
Both seats will therefore provide you with a range of invaluable skills that will no doubt assist you throughout your career, regardless of whether you choose to identify as a contentious or non-contentious lawyer.
For now, I look forward to the remainder of my transactional seat so that I can continue to develop my skills and decide which path – if not both – is for me.
Get in touch
Visit our graduate recruitment portal for further information on our training contracts and vacation scheme.