Black History Month: the life and times of Learie Constantine
Partner David Webster marks Black History Month by profiling a forgotten hero of the equality movement - and so much more.
For anyone, taking the very first Test wicket for the West Indies would be enough to establish them as a significant sporting figure – and a historical one, given how closely intertwined the cricketing relationship between England and the West Indies is with colonial history.
But what Learie Constantine was able to achieve outside his cricketing endeavours was remarkable by any standards.
Born in Trinidad in 1901, Constantine developed a reputation as an excellent cricketer and attempted to secure a professional contract on touring England in 1928 when he claimed West Indies' maiden Test wicket at Lord's. The writer CLR James put it down to the situation in his home country where "he revolted against the revolting contrast between his first-class status as a cricketer and his third-class status as a man".
In 1929, he began playing for Nelson in the Lancashire League and lived in England for most of the rest of his life.
Constantine remained in England during World War Two, holding a senior position within the Ministry of Labour and National Service and helping black workers from the West Indies who had been recruited to assist with the war effort to integrate into working life in Liverpool. He was awarded the MBE for those endeavours in 1947.
His name also lives on strongly in a legal context. While playing a charity cricket match in London, he had booked rooms for four nights at a London hotel which had specifically confirmed that his family's race would not be an issue. On arrival, however, he was told that they would only be able to stay one night to avoid offending other guests. He took legal action against the hotel and won, although he had to rely on contract and tort grounds rather than racial discrimination.
This case (Constantine v Imperial Hotels Ltd [1944] KB 693) is widely regarded as a key milestone in the development of racial equality law in the UK, albeit it would take a further 20 years before the first general statute against racial discrimination came into force with the Race Relations Act 1965.
Constantine already had something of a legal background and started training to be a lawyer, enrolling at Middle Temple in 1944 and funding his studies through cricket. He was eventually called to the Bar in 1954.
Indeed, Constantine worked to a large extent within the UK establishment. He was appointed Trinidad and Tobago's first High Commissioner in 1961, knighted in 1962, sat on the first Race Relations Board constituted under the 1965 Act, named the first black governor of the BBC in 1968, and became the first black life peer in the House of Lords in 1969.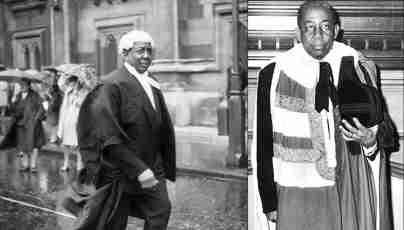 A campaigner for racial equality
He nevertheless remained a vocal campaigner for racial equality. There are countless examples of this, but perhaps the most telling (and one which illustrates the tension with his establishment role) was his intervention in Bristol in 1963 when a bus company refused to employ black staff. Whilst this helped to resolve the immediate situation, it was felt his comments were inappropriate given his position and he stepped down as High Commissioner shortly afterwards.
It is perhaps best to leave it to the man himself to try and sum up his legacy. When reflecting on his life peerage, just two years before his untimely death, and his title of 'Baron Constantine of Maraval in Trinidad and of Nelson in the County Palatine of Lancaster', he said:
I think it must have been for what I have endeavoured to do to make it possible for people of different colour to know each other better and live well together.
Get in touch
Call us on +44 (0)20 3826 7550 or complete our enquiry form.