Mock trial shows seriousness of fire door safety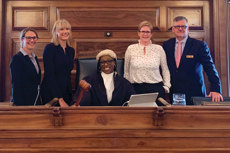 A fire tears through a city centre hotel in Leeds with more than 600 occupants. Starting in the hotel's lower ground floor server room, the blaze spreads to the ground and first floor, causing the building to be evacuated and at least one guest to suffer smoke inhalation.
Thankfully, this hotel fire is purely fictional. It was the premise for a 'mock trial', co-hosted by the British Woodworking Federation (BWF) and Russell-Cooke.
The trial might be staged, but the issue is deadly serious. In the nearly three years since the Grenfell fire, the issue of fire safety in multi-occupancy buildings has become a matter of national concern. Indeed, last year saw five major residential fires and a number of other serious blazes in hotels – the most recent in December.
Mock trial shows seriousness of fire door safety is available to read on the Inside Housing website.