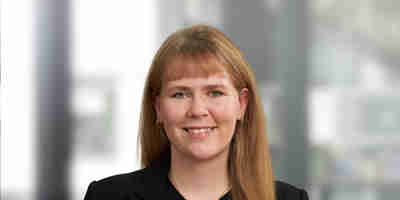 Relocation, abduction, divorce – oh my!
Reflections on a seat in the children and family department
In her third blog about life as a trainee solicitor, Caitlin Philpott talks about her experience of working with our family law team.
As I enter the final few weeks of the second seat of my training contract now seems to be an opportune moment to take a look back over the last six months. I've been fortunate to have had an incredibly busy and varied seat in the Kingston Family department and these are some of the highlights.
March
I arrive in the department, fresh from my first seat in Real Estate, and my LPC family law module feels like a distant memory. Fortunately I am able to attend a lot of new client meetings in the first month and listening to the advice brings everything flooding back, but the impending introduction of No Fault Divorce reminds me that there is always something new to learn!
I'm aware that the team acts in child abduction matters, but I'm told right at the start that these arise relatively infrequently. Imagine my surprise (and everyone else's) when there is a wave of enquiries within my first few weeks. Referrals come from the International Child Abduction Contact Unit (ICACU is the central authority for England and Wales and Russell-Cooke is on its panel of specialist solicitors) and also from the Child Abduction Lawyers Association's duty solicitor scheme. I assist my supervisor in one of these matters by drafting the application for the children to be returned. Time is of the essence so the application is swiftly sent to ICACU and the matter is referred to the central authority in the country where the children have been taken. A local lawyer is appointed and proceedings are commenced under the 1980 Hague Convention. In a separate matter the child has been brought to England so we obtain disclosure orders to establish their whereabouts and location and passport orders to secure the position.
April
I draft the brief to counsel concerning another application under the 1980 Hague Convention, but this time it's not for a return order. Our client lives overseas and is seeking contact with his child who now lives in England. My supervisor is away and counsel calls me to explain some additional tasks she'd like me to complete before the hearing. The hearing takes place remotely and I'm not sure of the etiquette, but helpfully counsel messages me to say I can turn my camera off!
A partner in another office asks me to attend a hearing on one of her matters. Our clients are intervening in a divorce in respect of a trust and when I arrive I'm grateful for the time I set aside to review the file because the cast of characters in this matter is extensive. As we file into court it becomes immediately apparent that the courtroom we've been allocated is almost comically undersized, but thankfully we're whisked to a more spacious court so that at least we can all take a seat as the hearing starts.
Back in the office I am assisting on a leave to remove matter where the client wants to relocate abroad with his children. I attend a client meeting during which different options are considered together with their merits and potential pitfalls. The discussion about the bigger picture and long-term strategy is interesting, particularly because I'm sure that I'll have moved on to my next seat by the time the matter is resolved. Working on cases that can last for months or even years definitely takes some getting used to.
May
One of my tasks this month is to draft our client's statement in the Hague Convention contact matter. I review the evidence and the client's instructions and with my supervisor carefully consider how to present the case. I enjoy the opportunity to really get to grips with the subject.
I also attend my first in person hearing at the High Court; it's a child abduction matter, before the President of the Family Division no less! It's a cliché, but I can't help for one short moment imagining myself as Martha Costello from the BBC drama Silk (other fictional lawyers are available) as I walk through the Great Hall of the Royal Courts of Justice. The fantasy is short-lived as I have to stop and ask for directions.
June
I attend a couple of client meetings this month that both concern issues arising in the enforcement of financial settlements. It's an interesting reminder that the conclusion of divorce proceedings doesn't necessarily spell the end of the story.
A long-standing finances matter now has that conclusion in its sights as it heads towards the final hearing. I assist in reviewing disclosure and preparing exhibits to the client's statement. It involves a couple of late nights, but getting everything finished is very rewarding. I later accompany the partner to the final hearing; there's a lot to take in and my note-taking skills are pushed to their limits.
July
I gain some more experience of financial matters as I assist in preparing for a hearing in a variation application to enforce and capitalise maintenance. Maintenance has remained unpaid for several years, despite numerous applications to court, so it's a difficult case. I draft a chronology to set out the history of the proceedings and review previous orders to calculate the amounts which remain outstanding.
August
A client in a child abduction matter has appealed the decision of the judge at the final hearing. This is how I find myself in the Court of Appeal, sitting alongside my supervisor in the very front row and hanging on the every word of the three QCs as they make their submissions. It's all very surreal! As the day goes on the bench we're sitting on becomes increasingly uncomfortable, but I do my best not to fidget as I'm very aware not only of the gazes of the Lords and Lady Justices in front of me but also of the camera in the corner that is livestreaming the proceedings to whoever might be watching from the relative comfort of their own homes (or desks). The entire day is fascinating and I'm looking forward to reading the judgment.

These last six months have flown by, in part because they've been packed with such varied and exciting work. I may be moving on, but you can bet I'll be checking back in on some of these matters to see how they conclude!
Get in touch
Visit our graduate recruitment portal for further information on our training contracts and vacation scheme.