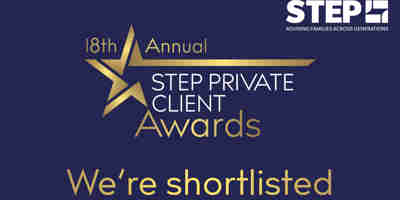 Russell-Cooke philanthropy team takes a STEP in the right direction with award win
Russell-Cooke has won Philanthropy Team of the Year at the prestigious STEP Private Client Awards 2023.
The award, accepted by philanthropy partner Pippa Garland, cements Russell-Cooke's reputation as a go-to firm for philanthropy, and demonstrates Russell-Cooke's depth in the private client market more generally. It rounds off an impressive year for the team, coming hot on the heels of the firm winning Best Philanthropy Offering (Europe) at the Wealth Briefing Wealth for Good Awards 2023. 
Philanthropy Team of the Year applies to a team that provides strategic advice to donors on philanthropic giving and structures. This award is open to philanthropy teams within a law firm, accountancy firm, bank, trust company, multi-family office or a dedicated/specialist advisory firm.  The team was up against strong competition from fellow finalists Charities Aid Foundation (CAF); Herbert Smith Freehills; Prism the Gift Fund and Wedlake Bell.  
Russell-Cooke impressed the judges with its expertise in supporting clients with all levels of wealth, from community volunteers to the ultra-wealthy. The judges focused on the practical examples of working in a range of jurisdictions and scenarios, praising the firm's dedication to philanthropy and innovative approach, as well as its efforts to minimise the negative impact of changing family dynamics on charitable structures.
The firm was shortlisted for three STEP awards:
International Legal Team of the Year (mid-size firm)
Philanthropy Team of the Year
Private Client Legal Team of the Year (mid-size firm)
The winners were announced at the Awards Ceremony in September 2023 at the London Hilton on Park Lane. 
Philanthropy is a primary focus within Russell-Cooke not only through the work of our charity team across the full gamut of philanthropic endeavours, but also through our Family Office advice to high net worth families. I'm proud to work with such a strong team in supporting all those who devote their time and wealth to the greater good; this award is a recognition for the team and for all our wonderful clients. Thank you so much STEP!"
Pippa Garland and the charity team work with individual philanthropists, families and businesses, advising on their giving and charitable endeavours. They assist them in structuring their charitable giving in line with their values, and advise clients across a range of matters, from creating foundations to leaving legacies in wills. The team also advises family businesses on their corporate and social responsibility programmes.
Get in touch
If you would like to speak with a member of the team you can contact our charity law solicitors by email, by telephone on +44 (0)20 3826 7510 or complete our enquiry form below.