About Imogen
I provide clear and pragmatic legal advice to empower my clients to make informed decisions for themselves and their families. There is no 'one size fits all' answer and I work closely with my clients to identify the best processes and bespoke solutions to meet their specific needs.
Imogen specialises in all aspects of private family law including divorce, financial disputes, pre-nuptial and post-nuptial agreements & children matters. Imogen has significant experience of advising in relation to international matters and matters involving complex corporate and trust structures. 
Imogen is a member of Resolution and whilst she is committed to resolving matters outside of the court process where possible she is also experienced in advising clients through contested litigation, arbitration and other alternative dispute resolution processes. Imogen seeks to adopt a pragmatic approach to her cases, helping clients to identify the right process for them in order to resolve their case in their best interests and as expeditiously and cost effectively as possible.
I cannot thank you enough for your time today. I am finally starting to see the light at the end of the proverbial tunnel. This is incredibly helpful and I feel confident and calm going to today's discussion with my ex.
Imogen trained at a central London law firm, qualifying into their family team in September 2015 where she gained experience of complex high-net-worth financial cases, disputes between cohabitants and challenging children matters.
She subsequently moved to a boutique family law firm where she continued to work on complex financial matters, nuptial agreements and disputes between parents.
Imogen joined Russell-Cooke in June 2021.
I cannot express my thanks enough, I truly appreciate all your help and support throughout this process.
Memberships
Member of Resolution since 2013
I really appreciate all your hard work and support.
Imogen's highlights
Achieving a constructive resolution when dealing with a divorce or separation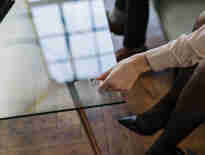 Is no fault divorce increasing the divorce rate?
Why no-fault divorce will help minimise conflict between separating couples
View all News & Insights