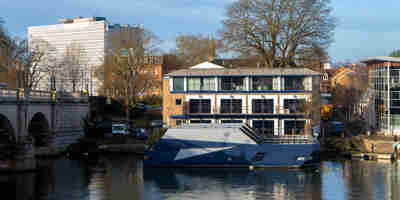 New home for Russell-Cooke in Kingston
Russell-Cooke has completed the relocation of its team in Kingston-Upon-Thames to Riverview House, a modern self-contained office building on the banks of the river.
The move is part of the firm's long-term commitment to its Surrey clients and delivers the accommodation and flexibility to support the ongoing growth of its Kingston team.
The new premises is directly adjacent to Kingston Bridge on the bank of the Thames, and provides over 9,000 square feet of premium office space including areas for hosting clients as well as industry and community events.
Russell-Cooke established its Kingston-upon-Thames office in 1985 and since then has become a leading legal services provider for local residents and the surrounding communities in wider Surrey.
The Kingston team's expertise ranges across key practice areas including private client, family and children law, education law, property law & conveyancing and real estate planning & construction. It's also an access point for clients to the wider legal services provided by the firm, from corporate and commercial to charity law.
The Kingston office officially opened on 30 January and is home to approximately 50 members of staff, including nine partners. The firm is a proud champion of arts and culture in Kingston including as principal sponsor of the Cobham Rugby Club, supporting the Rose Theatre since its inception and many other community events and causes. It is also an active member of the Kingston Chamber of Commerce and the Surrey Law Society.
The new address for Russell-Cooke LLP in Kingston:
Riverview House,
20 Old Bridge Street,
Kingston, KT1 4BU
Senior Partner John Gould commented:
"Although we are only moving the length of Kingston Bridge, the new location will make us even more accessible to clients in North Surrey who want the services of a large London firm. It represents a real step forward."
"Our Kingston team has earned an unmatched reputation for providing first class legal services to individuals, families and their businesses in Surrey and beyond. Our new offices are a fitting reflection of this. The upgraded premises give us a superb base from which to continue delivering for our clients into the future and provide a high quality, collaborative workplace and environment for our people, with the modern, versatile space providing the flexibility to support our agile working approach and future growth."
"We look forward to welcoming our team, clients and friends in the community to Riverview House."
Get in touch
If you would like to speak with a member of the team you can contact our criminal defence solicitors by email, by telephone on +44 (0)20 3826 7521 or complete our enquiry form.