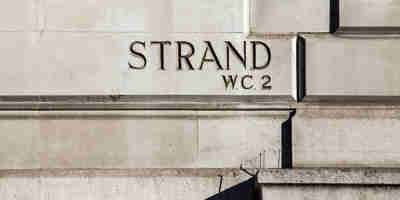 Russell-Cooke assists in letting space in iconic 80 Strand to Michael Page and Samsung
Russell-Cooke's real estate, planning and construction team has assisted the freeholder and landlord, Strandbrook, in two leases of space at 80 Strand to Michael Page International Recruitment and Samsung.
Iconic building 80 Strand was originally built in 1930–31. It is a Grade II listed building. Art deco in style, it boasts more than 550,000 square feet of floor space over 12 floors and features some of the largest floorplates in the West End at around 40,000 square feet per floor.
Following a major refurbishment in 2020 much of the floor space has now been let.
A Russell-Cooke team led by partner Arnie Isaacson advises longstanding client Strandbrook on the management of office space and retail units in the building. The team has been involved so far this year in two major office lettings.
The first was the lease of the entire second floor of the building to Michael Page International Recruitment, this was granted on 1 March 2023 for a term of 12 years. The second was the lease of part of the third floor to Samsung, this was granted on 16 June 2023 for a term of 10 years. Michael Page International agreed to take 39,468 sq. ft, and Samsung took 23,604 sq. ft.
These transactions follow the completion of a lease of the whole of the 4th floor to Sharkmob during the final quarter of 2022.
On both of these transactions, partner Kathrin McClintock led negotiations on the leases, agreements for leases and other transactional documents. She was assisted by senior associate Christopher Edwards and legal assistant Atif Rashid.
Client partner Arnie Isaacson said: "This great building at 80 Strand is continuing to attract attention for all the right reasons. Its famous clock tower is a landmark over Waterloo Bridge and the Strand and high quality occupiers have flocked to sign up to significant leases, demonstrating the flight to quality that we are seeing in the London market right now. We are pleased to have been able to assist Strandbrook in letting out 63,000 sq. ft. of the building this year."
Sophie Willson, a representative for Strandbrook, said: "Alongside delivering a high quality CAT A refurbishment of 4 vacant office floors, Strandbrook and their team worked hard to design and complete significant works to improve the entrance experience and maximise occupier amenity at 80 Strand. These works have transformed this iconic landmark property and have been received very positively by new occupiers including Michael Page and Samsung. We now have 105,000 sq. ft. spoken for with circa 55,000 sq. ft. remaining."
Property agents, Cushman & Wakefield represented Strandbrook on these transactions.
Get in touch
If you would like to speak with a member of the team you can contact our real estate planning and construction solicitors; Holborn office (Email Holborn)  +44 (0)20 3826 7523; Kingston office (Email Kingston) +44 (0)20 3826 7518; Putney office (Email Putney) +44 (0)20 3826 7518 or complete our form.