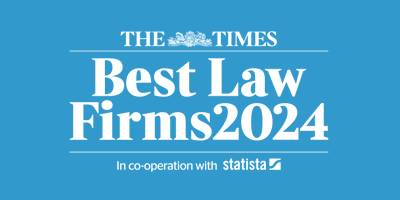 Russell-Cooke earns best ever results in The Times Best Law Firms 2024
Russell-Cooke has earned its strongest results to date in the The Times Best Law Firm report 2024, highlighting the broad range of the firm's specialist expertise.
The annual report, which relies on peer recommendations from lawyers and independent researchers, commends outstanding legal teams across 26 categories. Only the firms receiving the highest number of nominations in each category are listed. 
Russell-Cooke is listed for the sixth consecutive year since the report first launched in 2018 (with the 2019 report). This year the firm has surpassed its previous rankings, earning commendations in six specialist categories. From the list of 250 firms ranked, only 16 firms, including Russell-Cooke, have commendations in all three of the main categories of Business Law, Public Law and Private Client.
The specialist categories in which Russell-Cooke received commendations for 2024 are as follows:
charities
commercial property
crime
family
landlord and tenant
inheritance and succession planning/private client 
The firm has been specifically recognised this year for successfully obtaining the first remediation order for cladding and building safety defects under the Building Safety Act 2022 and for securing a £2 million settlement for a 71-year old woman who suffered a catastrophic spinal cord injury following a road traffic accident
Achieving commendations across six categories of The Times Best Law Firms this year is testament to the breadth of expertise and the excellence of our lawyers generally. It is pleasing to receive recognition from our peers at other law firms, who often act as our referrers and form a significant part of our client base. Our rare balance of private, commercial and not-for-profit work continues to provide us with a strong platform for sustained growth, reflected in the 20% increase in revenue we saw in the last financial year. My thanks to all those who nominated us."
Get in touch
Call us on +44 (0)20 3826 7550 or complete our enquiry form.