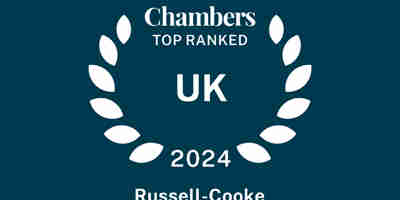 Chambers UK 2024 recognises 37 lawyers and 15 teams at Russell-Cooke
Russell-Cooke has again been recognised for its extensive scope of expertise across a diverse range of practice areas in the Chambers 2024 guide.
In total, the directory has recognised 15 teams and 37 lawyers; several of whom are ranked in multiple practice areas. A number of teams and individuals have joined the rankings this year, whilst others have been promoted.
Chambers UK is a highly-regarded legal directory, detailing the rankings of law firms and lawyers across all facets of the legal sector. The publication conducts research and interviews with clients, lawyers and co-professionals to assess lawyers and firms across their specialist fields. The analysis provided by Chambers UK is valuable resource for clients seeking legal services to identify top-tier legal representation, according to expertise.   
Of the 37 lawyers ranked, there are two ranked as Senior Statespeople: James Sinclair Taylor (charities) and Jason Hunter (real estate: litigation). Three partners are ranked in Band 1. Senior Partner John Gould is once again recognised in Band 1 for Professional Discipline; Joint Managing Partner James Carroll appears in Band 1 for Family/Matrimonial: High Net Worth along with Family: Mainly ADR whilst consultant Samantha Little is ranked in Band 1 for both Children: Public Law Matters and Children / Family Law. 
Russell-Cooke teams are ranked across 15 categories by Chambers 2024, with new rankings in Education: Individuals and in Family/Children. Individual rankings have increased from 33 in the 2023 guide to 37 in the new publication.
The following teams are ranked, three in Band 1 (Family / Children: Public Law Matters, Family / Matrimonial: High Net Worth and Real Estate: £10-£50m).
Charities: "The team provide efficient responses, are always available and are extremely professional."
Clinical Negligence: Mainly Claimant: "The team have a depth of knowledge and an ability to focus on the small but important details."
Crime: "0ur queries were always answered quickly, with a good level of detail, and we were very impressed by the reassuringly fast service."
Education: Individuals: "The firm is diligent in managing and understanding complex cases. They are very impressive with their responsiveness."
Employment: Senior Executives: "Russell-Cooke have a very strong grasp of both the legal technicalities and commercial dynamics. They are very responsive, punctual and thorough."
Family/Children Law: "Russell-Cooke is excellent and provides very good support."
Family/Children: Cross-border Disputes: "They have a fantastic children department and continue to offer top-quality advice."
Family/Children: Public Law Matters: "Russell-Cooke is hugely respected in the children law space."
Family/Matrimonial: High Net Worth: "Russell-Cooke is an excellent, well-rounded family team who work collaboratively as much as possible."
Personal Injury: Mainly Claimant: "They respond to all clients within a timely fashion, are never chased for an update and ensure their client is aware of each step taken along their journey with their case."
Real Estate: Litigation:  "Russell-Cooke is a warm, modern firm with plenty of character, but still delivers consistently."
Real Estate: £10-50 million: "Russell-Cooke provides more than just a technical legal review, they also provide commercial insight on what the matter might mean to our business."
Professional Discipline: "Russell-Cooke provide responsive and effective advice and guidance to matters of complexity."
Social Housing: Tenants: "The lawyers I dealt with were very helpful and they communicated with me on every step they were taking."
Family/Matrimonial (Guildford and Surrounds): "The team is excellent. They're professional, empathetic and always available."
We are delighted to see our Chambers UK rankings going from strength to strength this year. We now have individuals ranked across 21 different categories in the guide showing the breadth and depth of our practice. The high rankings, which are primarily the result of client based research, also endorse the excellence of our individual lawyers. We are grateful as always to our clients, referrers and peers for their feedback and support.
The firm's rankings in Chambers UK and Chambers High Net Worth can be viewed on the Chambers website. 
Get in touch
Call us on +44 (0)20 3826 7550 or complete our enquiry form.