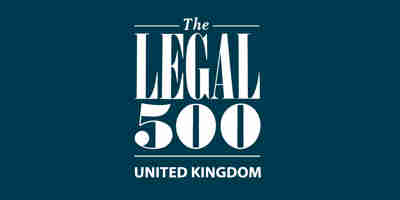 Russell-Cooke ranked by Legal 500 across 24 practice areas with 29 lawyers highlighted
The Legal 500 UK has published its directory for 2024, once more recognising Russell-Cooke's breadth of expertise across a wide range of practice areas. The firm has had 29 lawyers ranked and a further 44 recommended across 24 categories, retaining its ranking as a Top-Tier law firm for family mediation.
The Legal 500 is an independent guide to legal services. Gathering research and feedback from clients, peers and referees, the publication compiles rankings and reviews of law firms and lawyers across specialist areas and geographic locations.
Five of the firm's lawyers are listed in the publication's Hall of Fame: Jae Carwardine (crime); John Gould (regulatory); James Sinclair Taylor (charities); Andrew Studd (charities) and Fiona Read (family). The Hall of Fame identifies lawyers who have garnered consistent praise from their clients over a number of years.
A further 13 lawyers are recognised as Leading Individuals, another eight are recommended as Next Generation Partners whilst five senior associates are named as Rising Stars.
Every year when I read our new Legal 500 rankings the quotes never fail to give me a sense of pride and optimism about the future of the firm as well as appreciation of the hard work of lawyers across our practice areas. The past few years have been challenging for everyone, but our teams have emerged intact if not stronger for it.
Russell-Cooke is ranked in the following categories
Family mediation "Strong team which covers all aspects of family law. Good mix of seniority offering a choice to the client but with reassurance that they work as a team."
M&A: smaller deals £10m-£100m "vastly experienced … delivers a high-level service to its clients."
Crime: general; Fraud: white-collar crime "a relatively small team made up primarily of very experienced solicitors. As a result, the quality is excellent and very partner led."
Commercial litigation: mid-market "city expertise in its legal knowledge, experience, advice, and case-handling."
Professional discipline "a broad base of experience, prosecuting and defending in front of a wealth of different regulators (and sports bodies), and with the nous and experience to transition seamlessly if the matters become criminal or there are civil proceedings that spin off."
Immigration "the firm has a standout presence in immigration law."
Senior executives "This practice stands out because it is brilliant in all key aspects: knowledge, practical advice, speed, transparency of billing, and excellent client service."
Clinical negligence: claimant "a team consisting of clear leaders in their field. They always have the client's interests at the forefront of their thinking and are tenacious, but pragmatic, in achieving the best possible results"
Personal injury: claimant "a strong claimant-facing team with a good level of experience... All of the solicitors I have worked with have been diligent, efficient, and empathetic."
Charities and not-for-profit "approachable, highly intelligent, efficient, and coordinated…informed by deep industry insight with a knack for finding resolution on even the most nuanced legal issue".
Contentious trusts and probate  "draws on a significant wealth of experience to represent their clients in disputes of significant value and complexity"
Court of protection (London); "This team is excellent. They have market leading experience and no fuss."
Family (London); "Russell-Cooke is extremely well led' and provides a 'golden circle service'."
Personal tax, trusts and probate (London); "they combine top-notch technical lawyering skills with an ability to relate fully to their clients, in a field where effective advice often goes beyond black letter law"
Administrative and public law (London); "this is a highly committed team with a strong understanding of the wide and varied aspects of administrative law."
Education: individuals (London); "have a real expertise in providing technical and practical advice to preserve a child's right to an education and educational support."
Commercial property: corporate occupiers (London);  "An impressive team, who will respond as quickly as possible"
Planning (London); "they are very diligent and experienced in all aspects of planning litigation."
Property litigation (London); "they always tailor their advice with the specific issues taking into account the client and their needs."
Social housing: tenant (London); "the team has tremendous strength in depth, ensuring consistency of service and effective delegation, providing value for money."
Sport (London); "a strong, collaborative talented team with strength and depth across all bases."

Family (Surrey, Kent and Sussex)

Personal Tax, Trusts and Probate (Surrey, Kent and Sussex)
So many of the comments in the directory refer to teams being cohesive and working well together, which goes to the essence of who we are and how we work. Congratulations to all, including our business services staff whose efforts so often go under the radar but who make sure the lawyers can focus on their jobs effectively, and thanks as ever to all clients, peers, counsel and other referees for your kind words.
Get in touch
Call us on +44 (0)20 3826 7550 or complete our enquiry form.