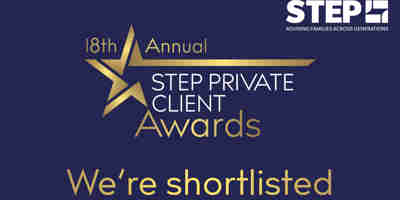 Russell-Cooke takes the treble in nominations for STEP Private Client Awards 2023/24
Russell-Cooke has been shortlisted in three categories of this year's STEP Private Client Awards.
The firm is recognised for:
International Legal Team of the Year (midsize firm)
Private Client Legal Team of the Year (midsize firm)
Philanthropy Team of the Year
STEP is the global professional association for practitioners who specialise in family inheritance and succession planning. The STEP Private Client Awards seek to highlight international solicitors/attorneys, accountants, barristers, bankers, trust managers and financial advisors who excel in their respective fields. Each year, an independent judging panel shortlists up to five nominees per category with the help of an independent panel of experts selected by the judges.
Nominees were asked to outline notable cases, provide evidence of their team's technical expertise, demonstrate how their team secures new client relationships in their specialist fields, highlight examples of innovation, and to showcase their commitment to the wider profession. This information was further supported by references from peers, referrers and other co-professionals.
"To be recognised by STEP for the third consecutive year is outstanding. Recognition of our international expertise is particularly welcome as this is such a significant part of our practice as well as in our contentious trust and estates work. And to be recognised for the second year for our philanthropy offering is the icing on the cake."
"It has been a strong year for our private client group, but due to the nature of our work and clients we can rarely shout about what we do. This is why these nominations are so important to us and a welcome reflection back to the team that what we have achieved is being recognised not just by our clients but by our peers and co-professionals."
In 2022 the firm was shortlisted for Philanthropy Team of the Year and in 2021 for both Contentious Trust and Estates Team of the Year and Private Client Legal Team of the Year.
The winners will be announced at the black-tie dinner and awards ceremony on Thursday 21 September at the London Hilton on Park Lane.