About the education law team
Our education law team at Russell-Cooke has a deep understanding of the legal intricacies surrounding education and our solicitors stand as your allies in safeguarding the rights and interests of students, families, and educational institutions. 
From addressing complex issues related to special educational needs, admissions ánd exclusions, to ensuring fair treatment and access to quality education, our team brings a wealth of experience to every case. 
Backed by a commitment to upholding the standards of educational equity and excellence, we advocate for fair treatment and ensure legal compliance within educational settings. Whether you're a student or a parent seeking guidance or an educational institution navigating legal challenges, trust Russell-Cooke to be your partner in achieving educational success.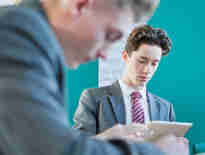 Education law
Our empathetic style of client care is informed by lived experience including of parenting children with SEN/D. We adopt a solution focused and where necessary...
Get to know our education law team
Get in touch
If you would like to speak with a member of the team you can contact our education law solicitors on +44 (0)20 3826 7528 or complete our enquiry form below.