About the human resources team
Our Human Resource team are committed to attracting, nurturing, and developing exceptional individuals who contribute to our shared vision of excellence. With a focus on fostering a diverse, inclusive, and collaborative workplace, the team plays a pivotal role in creating an environment where innovation thrives, and individuals can flourish in their careers.
From recruitment and professional growth to employee well-being and engagement, we're dedicated to ensuring that every member of our team has the resources, support, and opportunities to achieve their full potential. At Russell-Cooke, we recognise that our people are our greatest asset.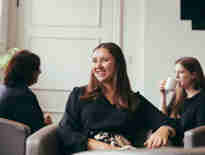 Russell-Cooke careers
Embrace diversity, quality work, and authenticity at one of London's premier law firm. Do you long for challenging high quality work with the confidence...
Get to know our human resources team