Construction disputes team
About the construction disputes team
Construction projects are complex endeavours that often involve numerous stakeholders, intricate contracts, and evolving regulations. Our experienced team specialises in resolving (and preventing) disputes arising from these complex projects, including issues related to design defects, delays, payment disputes, and more. We understand the unique challenges that can arise in the construction industry and are committed to providing you with strategic legal counsel that safeguards your interests and facilitates optimal outcomes.
Whether you are a developer, contractor, sub-contractor, or professional consultant, we offer tailored advice and representation to address your specific needs.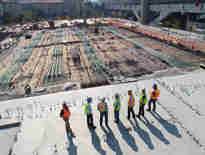 Construction disputes
We advise owners, employers, developers, contractors, sub-contractors and construction professionals...
Get to know our construction disputes team
---