About Patrick
I act for a diverse range of clients whether they are companies or individuals, including those eligible for legal aid. The most rewarding part of my role is helping my clients achieve a successful outcome. I really enjoy getting to know them, understanding their goals and exploring pragmatic alternatives to litigation.
Before commencing his training contract, Patrick worked as a paralegal in the children and education team. He gained experience in the real estate, housing and litigation, family and charities teams before qualifying as a housing and property lawyer.
Patrick previously worked in a range of roles for a local housing authority and brings that knowledge to bear when helping clients with housing matters, including defending possession proceedings or submitting homelessness reviews.
He has a particular interest in legal issues that affect real property and can advise on rights of way, easements, restrictive covenants, boundary and Party Wall Act disputes.
Patrick also works with lessors and lessees, managing agents and freeholder companies of residential blocks and can assist with all aspects of block-management. 
Patrick is representing clients affected by the Grenfell Tower fire in the public inquiry and has assisted them with related housing matters.
Experience
Obtaining vacant possession of a Rent Act tenancy during the coronavirus pandemic

Acting for commercial landlords throughout the coronavirus pandemic, pursuing debt proceedings and assisting with forfeiture action following the lifting of restrictions

Assisting a freeholder in an Access to Neighbouring Land Act matter and obtaining a significant premium and favourable terms for access

Helping managing agents, lessors and lessees with noise nuisance and other breach of lease matters

Successfully resolving an action for trespass and unauthorised works at the pre-action stage

Advising freeholders on restrictive covenants and the enforceability of easements to manage and address neighbourly disputes

Resolving a boundary dispute for the freeholder of a property in anticipation of sale

Supported a vulnerable individual facing eviction, helping them appoint a litigation friend and settle the proceedings

Conducting housing suitability reviews and establishing that a vulnerable social-housing client required a two-bedroom property following a suitability review

Advising on assured shorthold and Rent Act tenancies, obtaining vacant possession of a Rent Act tenancy during the coronavirus pandemic

Advising on and obtaining a significant premium and favourable terms for a freeholder in an Access to Neighbouring Land Act matter

Advising on noise nuisance and breach of lease matters

Advising commercial landlords on arrears recovery in the county court and successfully resolving rent arrears matters. Advising on trespass and unauthorised works and resolving a matter in the pre-action stage

Advising on housing suitability reviews and establishing that a vulnerable social-housing client required a two-bedroom property following a suitability review
Education
Studied English literature and film studies at Sussex University
Achieved a Graduate Diploma in Law at Brighton University
Memberships
Member of the Housing Law Practitioners Association
Member of the Property Litigation Association
Patrick's highlights
A fairer private rented sector - implications for landlords and tenants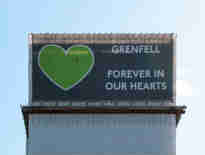 Reflections on the fifth anniversary of the Grenfell Tower fire
Love thy neighbour (and their un-rendered wall)
View all News & Insights